O-ring on Air Operated Double Diaphragm Pumps
O-Rings first became popular during World War II. One of the early standards, AN6227, contained only 88 sizes. As the usefulness and flexibility of the O-Ring became apparent, additional standards were developed to expand the sizes available to the engineers of the day. Today the choice of O-ring sizes and materials is unlimited.
Most common used standards in regards to O-ring sizes for the Diaphragm Pump industry are:
• AS-568 (American standard)
• BS1806 (British standard)
• DIN ISO 3601- 1 (European standard)
• JIS2401 (Japanese standard)
O-Ring Installation help
During repair or servicing your Air Operated Double Diaphragm pumps, any damage to the O-ring must be avoided, otherwise leaks may occur. The following instructions should also be observed:
The O-ring must not be expanded up to the elongation limits.
Edges must be free of burrs, radii and chamfers must be applied without transition.
Dust, dirt, metal chips and other particles must be removed.
Thread tips and installation spaces for other sealing and guide elements should be covered with the aid of a mounting sleeve.
Assembly surfaces and O-rings should be provided with a suitable grease.
Heating in oil or hot water to approx. +80 °C makes elastomers more pliable This makes it easier to expand the O-ring for assembly.
Any assembly tools used, such as expanding mandrel or sleeves, should be made of soft material (e.g. POM) and be free of sharp edges.
The O-ring should not be rolled over the mounting surfaces. When snapping into the groove, the O-ring are not used twisted
O-Ring Common Failures
For each O-Ring on an AODD pump, there is a matrix of system parameters—pressure, temperature, friction, environmental exposure and chemical exposure. All of these parameters must be considered together when designing the O-ring gland and selecting the O-Ring size and elastomer in order to ensure long-term seal reliability. Below you'll find the most common failure modes seen with O-Rings in diaphragm pump applications.
1. Over Compression
The seal exhibits parallel flat surfaces corresponding to the sealing surfaces. It may also develop circumferential splits within the flattened surfaces.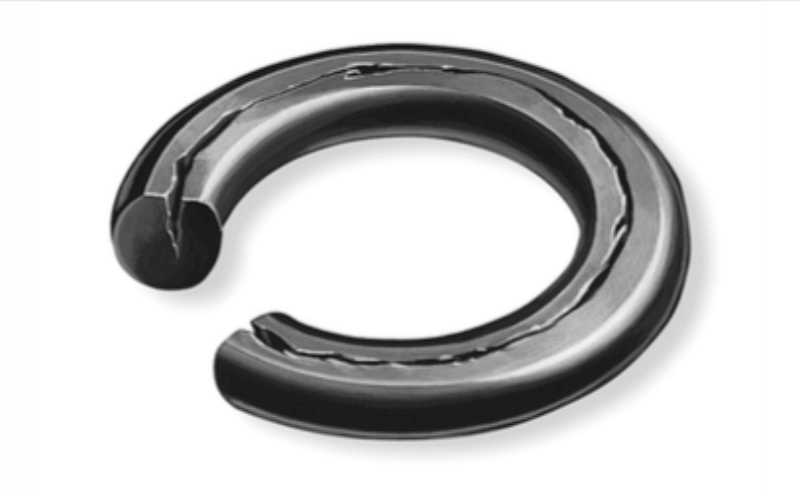 Contributing Factors:
Excessive compression squeeze
Poor compression set properties
Elastomer with inadequate heat resistance
Improperly cured part
Volume swell due to system fluid
Prevention/Solutions:
Use smaller O-Ring or adjust gland design
Select O-Ring with better compression set resistance
Reduce system operating temperature
Use more chemically resistant elastomer
Check state of parts prior to installation
2. Spiral Failure
The seal surface exhibits a series of deep spiral 45 degrees angle cuts.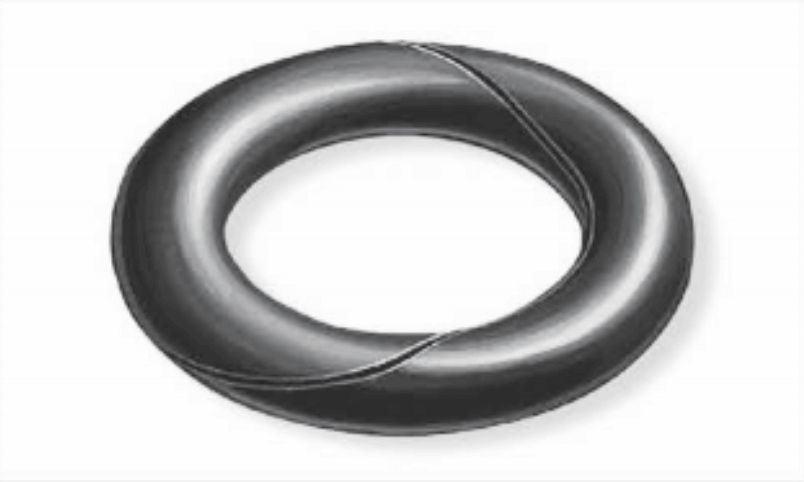 Contributing Factors:
Uneven surface finishing
Elastomer too soft for the application
Inadequate lubrication
Wide clearances in combination with side loads
Prevention/Solutions:
Machine surface to correct finish (10-20 μinch)
Consider higher durometer material
Use external lubrication
Decrease clearances
3. Installation Damage
The seal or parts of the seal may exhibit small cuts, nicks or gashes.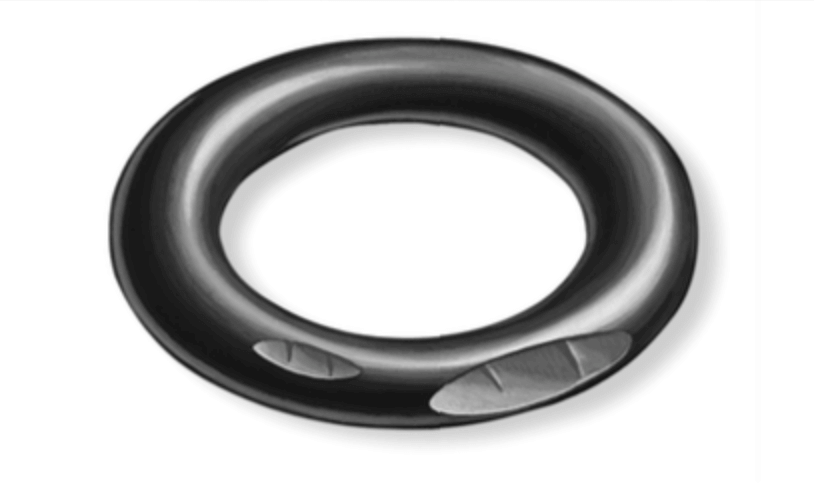 Contributing Factors:
Sharp surfaces on gland or components
Inadequate lead-in chamfer
Prevention/Solutions:
Brake all sharp edges and cover threads with tubes or
tape during installation
Use a higher-modulus/higher-harness material
If possible provide 15° lead-in chamfer to guide the O-Ring properly
O-Ring Common Materials
O-rings used in AODD pumps are according one of the mentioned standards or metric sizes and different material options are available to meet your application requirements.
Thinqk Pump Parts supplies O-rings using one of the following materials:
Buna-N/Nitrile:
A synthetic rubber with excellent oil resistance and fair to good chemical resistance.
EPDM/Nordel:
A synthetic rubber providing excellent chemical resistance and heat resistance.
FKM/Viton:
A synthetic rubber/elastomer providing excellent heat, oil, acid, weather and flame resistance.
Polyurethane:
An elastomer with excellent abrasion resistance and weather resistance, and good oil resistance.
Santoprene:
A FDA approved TPE with excellent resistant against abrasion, tears, solvents and oil.
FEP Viton:
Excellent FEP chemical inert outer surface combined with a Viton inner core for optimal resilience.
FEP Silicon:
Excellent FEP chemical inert outer surface combined with a Silicon inner core for optimal resilience.
PTFE
Excellent chemical resistance to aggressive acids, bases, alcohols and oils. Good resistance on high and low temperatures.
Can we help you?
For questions on O-rings to service your AODD Pumps please contact our Team of professionals at Thinqk Pump Parts. We are more than happy to assist you with your o-ring needs. To reduce your downtime we stock most common O-ring sizes and materials used in the Diaphragm Pump industry. Parts ship worldwide from our semi-automated warehouse located in the Netherlands.

Thinqk O-Ring Pump Parts, original quality at a better price.